News
New packaging at MayBeez
by Maybeez on Jul 31, 2021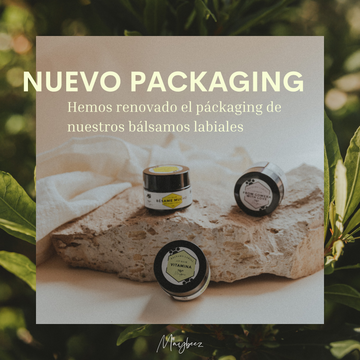 We love seeing you here again, because as you already know from our social networks we are making changes to MayBeez, and for those who still do not follow us, we encourage you to do so, so that you are always up to date with everything we are doing for you.
In this post we are going to tell you in detail the changes we have made and the reason behind each decision we make. We are very happy to present these news to you, keep reading that we will tell you everything point by point.
We have decided to make a change in the packaging of our lip balms, previously made of aluminum, for ones made of dark glass, since this material is much more effective for preserving natural products.
Still don't know our balms? No problem, here we tell you everything about them.
" Kiss me a lot" is a delicious balm made from almond oil, beeswax and vanilla, its aroma is so sweet that no one will be able to resist a kiss when you wear it.
" From la Gomera with love" is made up of organic shea butter and organic beeswax that not only hydrates and softens the lips, it also gives them a natural shine. It also contains cinnamon and palm honey, which is obtained from the sap of the Canarian palm trees.
The process to obtain it is simple, but it takes time, since the leaves of the palm tree are cooked over the fire for several hours, until obtaining a dark syrup with a characteristic sweet flavor. La Gomera is the only place in the world where this sweet is prepared, which is why this lipstick is very special.
" Vitamin" is made of organic avocado oil, which provides us with a lot of hydration, organic beeswax and propolis and also contains essential oils of lemon, orange and tangerine that give it freshness and is perfect for use in summer.
Doesn't your mouth water? Tell us if you have already tried them and which one you liked the most.
The lipstick product remains the same, with the same natural properties as always, what changes is the container, which, in addition to being made of glass, can be recycled, so that we will not only be using a natural product that is gentle on our skin, but also we will also be helping the planet. What do you think? Tell us if it is also important for you to take care of the place where we live and why, we will be reading you.
We have also made another change to improve not only our commitment to the planet but also to you, adding a new format of your favorite hand cream, "Sedosa" which for those who don't know it, is made from calendula oil and beeswax which makes it super moisturizing.
The normal 120ml format will continue to be available, but there will also be the 60ml format, much more comfortable so that you can take it with you wherever you want.
What do you think of the new news? Tell us here or through our social networks.
We want to know what you think.
And stay tuned because we are still improving and creating new products.
Thank you for trusting us to take care of you and the environment, being aware of what is most important.
MayBeez