News
THE "BEE AVOCADO" MASK STEP BY STEP
by Maybeez on Aug 30, 2021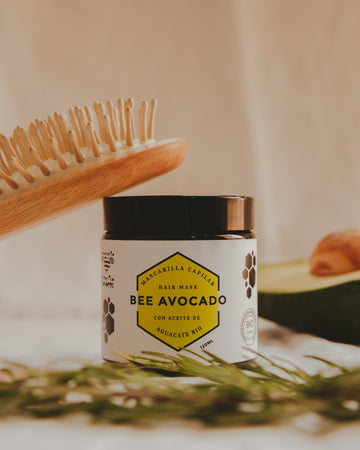 Do you have dry or dull hair? Have the sunny and beach days taken their toll on your hair?
If the answer to any of these questions is yes, this post is for you.
Keep reading and we'll tell you why!
If you've been paying attention to our social networks, you'll already know what we're going to talk about, but if you don't, don't worry, because we're going to tell you everything in this post.
Today we are going to talk about our Bee Avocado hair mask, whose base is avocado oil and cocoa butter, which has moisturizing properties and acts as a natural emulsifier.
It also contains organic olive leaf extract that softens hair and a mixture of vitamins and essential oils of rosemary and lemon that greatly strengthen and refresh hair.
Sounds good right?
It is very important that you know how to use our mask to make the most of all these properties, since its use is a little different from what we are used to.
Bee Avocado has a lot of natural avocado oil and cocoa butter and is very nourishing for the hair, but it takes time for the hair to absorb all that moisture.
We have divided the steps to follow into four so that you know exactly how to use it:
1.Moisten your hair.
Nutrients are absorbed much better with wet hair.
2.Apply the mask from mid-lengths to ends.
Spread the cream on the areas that your hair needs it the most, especially from the middle to the ends, avoiding the root area, which is usually more oily.
3.Let it act for at least 30 minutes.
Give your hair time to absorb all its properties very well, wrap your hair in a towel and give yourself a moment while our mask pampers your hair.
To pass that time you can read a book, have tea, or watch a chapter of your favorite series, you decide what is best for you, the important thing is to enjoy it.
4.Rinse and wash as usual.
Then it is time to relax and wash your hair with the shampoo to remove all the product, since it has already done its job on your hair. Now all that remains is to see the result!
What do you think of these steps? Did you know that our mask was used before shampoo?
Tell us your opinions in comments, we would love to read you.