News
Benefits of the Nasturtium Flower
by Maybeez on Jan 09, 2022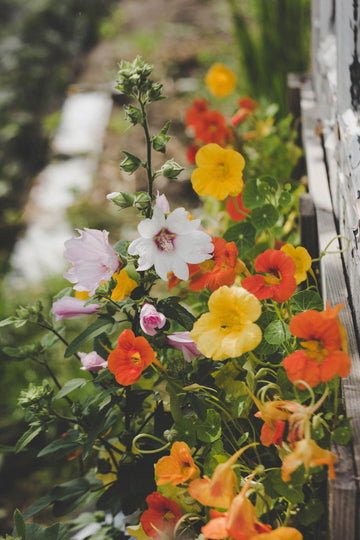 Benefits of the Nasturtium Flower
Did you know that there is a flower that, in addition to decorating balconies, has incredible properties for your skin? Have you ever heard of the nasturtium flower?
The nasturtium flower is a plant from Peru, which can only be pollinated by hummingbirds, since its bell shape is unique. This flower was already used for its healing properties in the kitchen and now its properties have also been discovered in the cosmetics industry.
Take note of all its benefits!
1.Anti-pollution
Its waterproof sheets allow the rain to clean them of dust and debris without suffering damage. We also obtain this feature on our skin, as it protects us from external agents and enhances cell oxygenation to revitalize them. The nasturtium flower is even used to heal wounds because it disinfects them and allows rapid sanitation.
2. Anti-aging
The strengths of the nasturtium flower not only make it the perfect anti-pollution shield, its cleansing properties also combat premature aging of the skin, helping to blur wrinkles and remove spots. Due to its high vitamin C content, it has antioxidant and illuminating qualities, leaving your skin detoxified and with a detox effect because it stimulates cell oxygenation.
3. Seborregulator
The nasturtium flower also acts as a seboregulator, an essential property to treat skin with impurities and acne. The essential oil of the plant has a balsamic and softening effect that brings benefits for the care of our skin.
4. Improves blood circulation
The organic compounds derived from the plant's fatty acids increase cutaneous blood flow, which means that more blood reaches our skin and nutrients are transported more quickly. Our skin will look rosy and healthy.
5. Hair treatment and cleansing
In addition to being an ally in the care of our skin, the nasturtium flower is used as a shampoo to treat dandruff and protect the scalp. By promoting blood circulation, it is used as an antilopecid, prevents hair loss and stimulates its growth.
Now that you know all its benefits, would you like to try it? At MayBeez you can do it with our solid shampoo "Jimi H" that has organic nasturtium extract manufactured by us.
Apart from being comfortable for its size and price, it is one of the best options for your hair care as it contains vegetable surfactants from coconut, shea butter; extracts of nasturtium, caffeine and cinnamon, pure essential oils of palmarosa and patchouli.
This shampoo will deeply nourish your hair.
What are you waiting for to try and experience the benefits of the nasturtium flower?
See you in the next post!
Fondly,
MayBeez.
Photo by Stella de Smit on Unsplash