News
This summer protect yourself from the sun
by Maybeez on May 15, 2022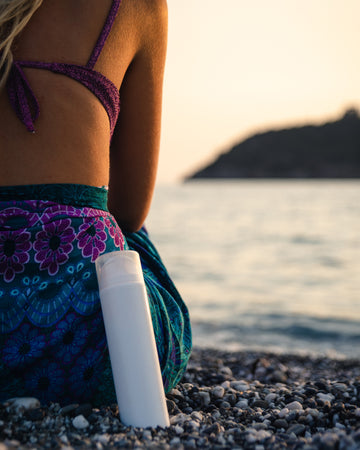 The importance of protecting yourself from the sun
Are you tired of dealing with burns every summer? Have you gotten used to the fact that your lips are always dry from the sun? Do you want to know how to avoid it?
In this post we tell you how you can protect your skin from the sun, prevent it and enjoy your vacation without worrying.
The importance of sun protection
We know you've heard it a lot, but it's never said enough, because it really is very important to protect yourself from the sun.
The skin has memory and when you overdo sunbathing and suffer burns, it is more likely that in the long term you will have further aging of the skin or even the appearance of melanoma.
To avoid this you must be clear about these steps:
Always use sun protection before leaving home, experts recommend that you have at least an SPF of 30 on brown skin and an SPF of 50 on whiter skin.

Reapply sunscreen every two hours or after swimming, sweating, or towel drying, because sunscreen can wear off or lose its effect.

Avoid exposing yourself in hours of high temperatures and always look for a shade so that your skin can rest.

Don't forget to also protect your lips by using a moisturizing balm.
What to do if you suffer a skin burn?
If you have sunbathed excessively and you suffer a burn, it is also very important to know how to act and take care of it so that it heals properly.
If the burn is superficial, it is important to hydrate the affected area very well with plenty of cream such as aloe vera after sun, products that soothe and refresh the skin, which will already be hot and cause discomfort.
Avoid the sun as much as possible while the burn is healing, avoid clothing that is very close to the body so that it does not irritate you, and opt for loose clothing and, if possible, natural fibers.
Avoid clothing when sleeping if there is discomfort in the skin and keep the skin clean and hydrated when you go to bed .
If blisters and more serious burns occur, it is necessary to see a doctor so that they can prescribe an anti-inflammatory cream to relieve pain.
At MayBeez we have an ointment that can help heal superficial sunburns, it's our "Cold no more", which is made from Canary hypericum oil, a plant that we collect ourselves to obtain all its antiviral properties. , antiseptic and soothing.
And to prevent your lips from suffering from the sun, remember to always use a lip protector and moisturize them daily.
Here we leave you here our favorite balms from MayBeez:
"Kiss me a lot" balm. This balm is perfect for taking care of your lips and hydrating them in summer. It contains organic almond oil, beeswax and a sweet vanilla aroma.

"From Gomera with love" balm Created with organic shea butter, cinnamon essential oil and a special ingredient that is palm honey that will help protect your lips.

"Vitamin" balm With organic avocado oil, propolis and essential oils of lemon, orange and tangerine. Refreshing for hot days.
Tell us in our networks, which of our balms is your favorite and if it will also be your essential product to go to the beach.
We hope that these tips will help you take care of and protect your body from the sun, but above all to enjoy the desired vacations as you deserve.
Fondly,
MayBeez
Photo by Antonio Gabola on Unsplash